Atacama Explorer: Santiago and San Pedro de Atacama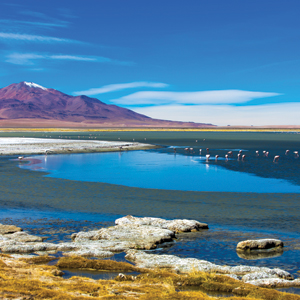 Atacama Explorer
Take a memorable journey to two of Chile's most popular locales, experiencing all the charm and diversity this unique country has to offer. Start your adventure in culturally rich Santiago before progressing to enchanting landscapes of San Pedro. Enjoy the quirky World Heritage town of Valparaiso, savor a tour and tasting at a prestigious winery, hike amid volcanoes, geysers and salt flats, and marvel at the surreal landscape of the Moon and Death Valley.
Includes:
3 Nights Santiago
4 Nights San Pedro de Atacama
Private Panoramic Tour with San Cristobal Hill
Private Vina Del Mar
Valparaiso and Matetic Vineyard Tour & Lunch
Small group Altiplanic Lagoons Tour
Shared Tatio Geyser and Machuca Tour with Box Breakfast
Small Group Moon and Death Valley Tour
All Airport Transfers
Daily Breakfast
About Avanti Destinations

MISSION STATEMENT
Avanti Destinations connects the components for customized international travel utilizing our technology and educated staff. We deliver a unique vacation experience solely through acting as the travel agents' travel agent!
WHO WE ARE
Avanti Destinations, formed in 1981, is a customized international tour operator, and a long time member of USTOA and ASTA. We are headquartered in Portland, OR and privately owned.
WHAT WE DO
We offe
...