Anakonda 4 Nights: Anakonda Cruise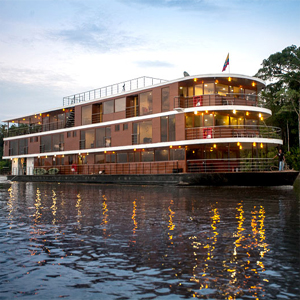 Anakonda 4 Nights
Travel on board the Anakonda Amazon River Cruise, the only luxury ship in the Ecuadorian Amazon Rainforest, and experience the Amazon in a most unique way! Visit the remote and pristine areas where few have had the opportunity to travel, and interact with the region's 15 local communities, while enjoying the comforts, commodities and services of a 5-star boutique hotel on board with us in the middle of the Ecuadorian Amazon.
Includes:
>Roundtrip Air
Ground and Boat Transfers
4 Nights Anakonda
Guided Tours
All Meals
About Avanti Destinations
MISSION STATEMENT
Avanti Destinations connects the components for customized international travel utilizing our technology and educated staff. We deliver a unique vacation experience solely through acting as the travel agents' travel agent!
WHO WE ARE
Avanti Destinations, formed in 1981, is a customized international tour operator, and a long time member of USTOA and ASTA. We are headquartered in Portland, OR and privately owned.
WHAT WE DO
We offe
...